west zone power distribution company job circular has been published. West Zone Power Distribution Company Limited is a state-owned utility and power company in Bangladesh and is located in Khulna, Bangladesh. Below are all the details of the recently published WZPDCL  job circular. West Zone Power Distribution Company Limited Job Circular 2022 offers new jobs at http://jobs.wzpdcl.org.bd. New Job Circular of WZPDCL Jobs Circular notice is also available on our Company Jobs website https://thestudyjob.com
west zone power distribution company job circular 2022
If you are searching for the recent private job circular of Bangladesh, then here published West Zone Power Distribution Company Limited Job Circular 2022 for you. New Job Circular of WZPDCL Jobs Circular notice is also available on our Company Jobs website. wzpdcl teletalk is one of the best company jobs circular 2022. So read this full article about WZPDCL job circular application 2022.
Details
Name
West Zone Power Distribution Company Limited
Type of job
Private company permanent job
Job publish date
04 September 2022.
Job category
Private job
News source
Online/Newspaper
Total Vacancy
02
Total man
See in the circular notice
Edu: qualification
Graduate Pass, Diploma Pass, HSC Pass
Experience requirement
View in the job circular
Apply process
See below notice
Application Fee
700 – 800 Taka.
Application start date
04 September 2022
Application last date
30 September 2022.
Website
http://wzpdcl.org.bd
thestudyjob.com is the first to get the news about all types of government and private jobs. So visit our website to get any kind of job news. Take a look at the image below to see all the information related to Ozopadiko Job Circular – see detailed information in the image below.
WZPDCL Job Circular 2022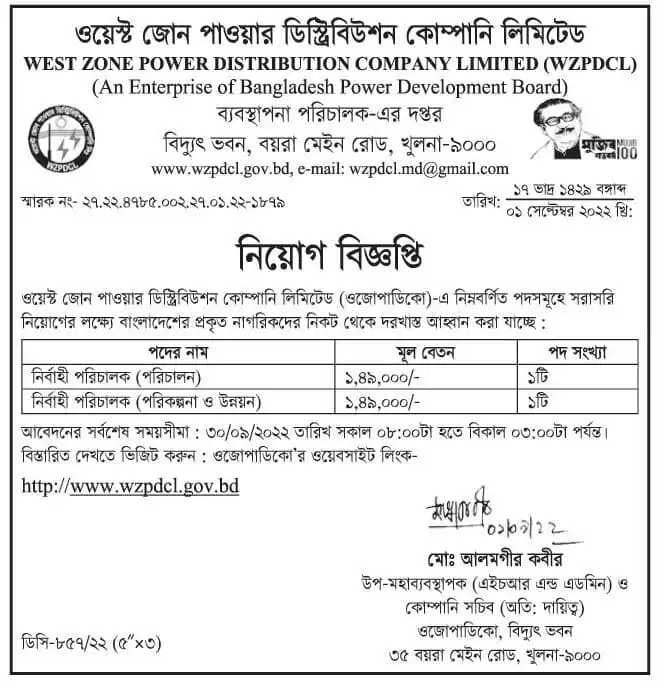 Source: Daily Jugantor, 04 September 2022
Application Deadline: 30 September 2022 from 8 AM to 3 PM
Application Method: offline
Ozopadiko job circular 2022
West Zone Power Distribution Company Limited was established in November 2002. It was established as a public limited company under the Companies Act, of 1994. The western region of Bangladesh Power Development Board was placed under West Zone Power Distribution Company Limited on 1 October 2003, comprising Khulna Division, Barisal Division, and Faridpur Region.
The company signed a Temporary Vendor Agreement (VA) and a Temporary Electricity Sale Agreement with the Bangladesh Power Development Board on March 23, 2005. The company has taken over the management and distribution of the board in the western region. Employees of the Bangladesh Power Development Board in the West joined West Zone Power Distribution Limited in December 2006.
The government has given top priority to power sector development and is committed to providing access to electricity to all citizens across the country by 2021. In order to achieve this goal, the Government has undertaken a number of reform measures. As a part of this Reform Program by way of unbundling the Power Sector and increasing efficiency by ensuring accountability and better services in the field of Generation, Transmission, and Distribution through reduction of distribution system loss and strengthening the financial position, West Zone Power Distribution Co. Ltd. was constituted as an electricity distribution company in November 2002 under the Companies Act, 1994 as a Public Limited Company.
Admission News click here: Admission
 Education News click here: Education
 Job News click here: Job Circular
---
west zone power distribution company limited job circular 2022,wzpdcl tracking,west zone power distribution company bill check,north west zone power distribution company ltd,west zone power company bangladesh,wzpdcl khulna,dpdc job circular 2022,www.wzpdcl.org.bd online application