Square Group Job Circular 2023 has been published. Square Pharmaceutical Limited is one of the largest pharmaceutical companies in Bangladesh. The company provides various products for people around the country. SQUARE Pharmaceuticals Limited, SQUARE Textiles Ltd, SQUARE Toiletries Ltd, Square Food & Beverage Limited, Square Agro Development, and Processing Ltd., Aegis Services Limited, Square Air Ltd, SQUARE Hospitals Ltd, Square Securities Management Ltd Job Circular 2023. All the information on the recently published Square Group Job Circular is given below.
Square Group Job Circular 2023
Square Group Jobs Circular 2023 is the best private group of companies in Bangladesh. If who is searching for the top private company Job circular in Bangladesh, this company is the best for you. o you can easily apply for the job circular. Square Group Are Invited to Online Application Form for the Recruitment Post of Square Group Recruitment 2023.
SQUARE Group today generates over a billion-dollar revenue with exports to over fifty countries around the globe Burgeoning to multiple companies, the group has now businesses as diverse as healthcare, textiles, food & beverages, cosmetics & toiletries, media, and information technology. It is the country's one of the top business houses that has become the number one job creator having a large and diverse skilled workforce in employment. You can get all the important information regarding the Square Group's career opportunities. So let's check the Square Group job circular 2023 and apply now.
Square Group Job Information
Company Name: Square Group Limited
Post of Name: As per circular.
Publication Date: 11 February 2023
Job Type: Private Jobs
Educational Requirements: See circular below.
Official Website: www.squaregroup.com
Age Limit: As per circular.
ob Nature: Full-Time
Application Deadline: 19 February 2023
Salary: Negotiable.
Job Location: Anywhere in Bangladesh.
thestudyjob.com  is the first to get the news of all types of government and private jobs on this website. So to get any kind of job news, visit our website. To see all the information related to Square Group Recruitment Notification 2021, look at the picture below – see detailed information in the picture below.
Square Group Job Circular 2023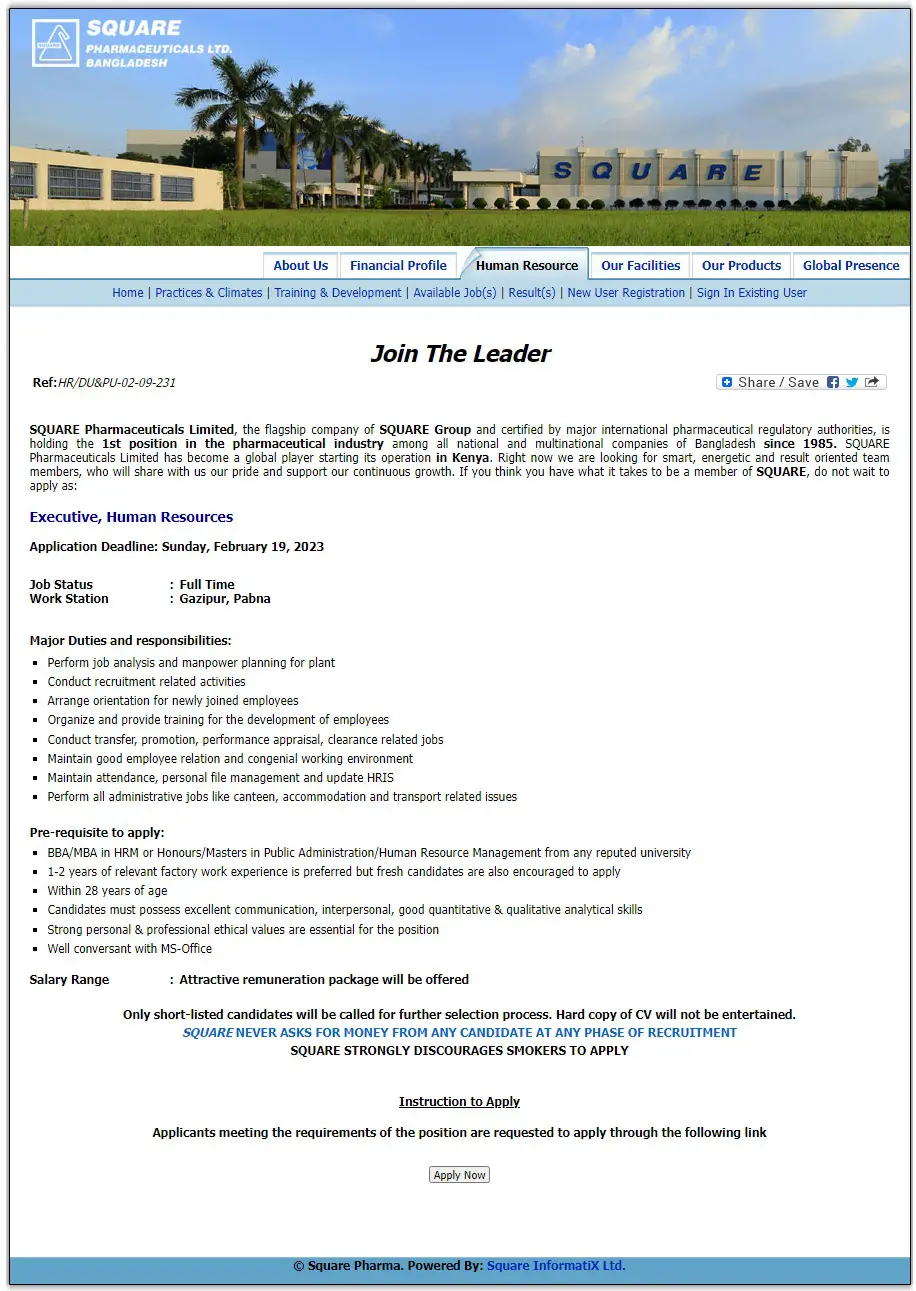 Source: Bangladesh Protidin, 11 February 2023
Application Last Date: 19 February 2023
website: www.squaregroup.com
square group career
Square group job circular 2023 is a valuable job circular for unemployed people. Eligible candidates can apply for these positions. If you want to know more details about the square group job circular 2023, you can see the original job circular. If you want square group career you can apply as soon as possible.
Major Duties and Responsibilities:
1. Performing Risk Assessment to identify the worst-case product
2. Taking preparation of Cleaning Validation/Verification Protocol & Report
3. Coordinating with the stakeholders for the execution of Cleaning Validation & Verification
4. Preparation of Hold Time Study Protocol & Report & Packaging Validation/Verification
5. Tracking of Hold Time Study Sampling, Testing & Reporting
6. FMEA preparation to identify the critical parameters
7. Conducting training on Cleaning Validation & Verification Protocols
Pre-requisite to apply:
1.M, Pharm / B. Pharm Or M. Skin Chemistry / Applied Chemistry / Bio-Chemistry & Molecular Biology (From reputed Universities)
2. 2 to 3 years of relevant experience is mandatory
3. Excellent communication & interpersonal skills
4. Well conversant with MS-Office
5. Within 32 years of age